Frat Soaps Up Shoes for Charity
Student Life: Washington University, Saint Louis - Sep 24, 2003
By: Sarah Baicker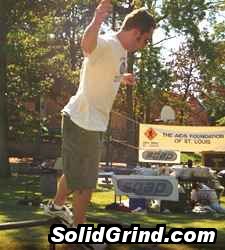 Media Credit: DANA KUHN
Senior Ryan Murpy showed his soap shoe tricks on the South 40 on Saturday as part of a demo organized by Sigma Nu fraternity in hopes of raising money for the Aids Federation of St. Louis.
"What's going on over there?" asked sophomore Alex Rechlin, motioning across the Swamp to where the music was coming from. Rails were set up on the grass, with speakers, banners and shoeboxes spread out across the ground. Multiple students on their way to brunch this past Saturday stopped to find out what was taking place.
The Sigma Nu fraternity held a Soap Shoe demo to raise money for the Aids Federation of St. Louis. Members of the 2003 sponsored Soap Shoe team were present, showing off their talents and helping out the less experienced. But even with that information, many students were still confused as to what exactly soaping was.
Soap Shoes, tagged "the shoes that grind," are sneakers equipped with concave plastic grind plates in the center of their soles. They enable the wearer to slide, or "grind," along rails, benches, stairs - practically anything - at speeds of up to 30 mph.
"It's just like inline blading, but without the wheels, and easier to get into," said junior Alexei Tajzler.
Once grinding rails is mastered, "soapers" learn and invent tricks they can perform while sliding across rails. Trick names like "Fahrvergnuegen" and "Cheese grater" quickly become part of the soaper's vocabulary.
Saturday afternoon, sponsored Soap Team members and Sigma Nu invited members of the Washington University community to try the shoes for themselves, supplying the altered footwear. In addition, there were raffles for shoes, shirts and posters, all bearing the Soap Shoe logo.
Students got a taste for the sport by watching the team members and then trying the grinding method for themselves.
Even those who had little idea what oaping was came out with cameras in hand. Tajzler, a member of the sponsored team, has been actively soaping for four years. He came up with the idea for the demo this summer.
"We've been working on it since mid-July," said Tajzler. "Derek [Brooks] organized getting the team here."
After contacting Heeley's, the parent company of Soap, the event organizers filled out a form with Residential Life and purposely chose a weekend with little other activity.
The event was publicized on campus with flyers and off campus with posts on the Aids Federation of St Louis' website and www.solidgrind.com, an extreme sports website owned by Brooks.
Advertisements attracted many from within the community and a number of others from across the Midwest.
Fewer people, however, showed up to the demo than had been hoped for.
"I'd say the low turnout was mostly because people were afraid to try [the Soap Shoes] out," said Tajzler. "Those who did try stayed for hours."
Pattie Roberts, a sophomore, was brave enough to try the shoes.
"It was a lot harder than it looked," said Roberts. "The shoes made [grinding rails] a lot more slippery than I thought it would be. I fell a lot. But it was still a lot of fun!"
By the demo's end, Sigma Nu had raised about $100 in donations for the Aids Federation, while many got to experience soaping firsthand.